A Blizzard Of Games
BlizzCon is my annual video game convention of choice.
E3 is for the businessmen, GamesCom is Europe's E3 and the various Pax conventions are for geeking out.
Yet BlizzCon is the one for lovers of the PC. Between the Warcraft, Starcraft and Diablo franchises, PC is the home base for Blizzard. And now with Heroes of the Storm and Hearthstone, it doesn't look like they're quitting that space any time soon.
So whenever BlizzCon rolls around, I listen, because they most likely will showcase what most likely will take my money. And from the amount of information released this Blizzcon, it may have been the best ever.
Between the panels, the news (which I will highlight later) and the various franchise updates, the energy around BlizzCon 2015 was something I hadn't felt for a long time.
Traditionally, BlizzCon felt more like Blizzard's annual celebration fest. Some times there was a WoW expansion, sometimes it was just development updates. BlizzCon was a celebration of what Blizzard made, not what they were making.
Blizzard had released Heroes of the Storm with updates and new heroes released regularly, Hearthstone has exploded to 40 million players(1), Overwatch beta has launched with great first impressions and Starcraft II's final chapter, Legacy of the Void releases in 3 days on November 10th.
Furthermore, Diablo III's support continues, with players still logging on and playing frequently.
Hell, I'm not even a huge e-sports fan, but Blizzard was running World Championships for Starcraft II, Heroes of the Storm, WoW arena and Hearthstone during the entire freaking convention. This con had it all.
So even if World of Warcraft has dropped to 5.5 million subscribers, the overall feeling for this con was that Blizzard's future has been brighter than ever. The last time I thought Blizzard had a big future was 2008 with Diablo III and Starcraft II both on the horizon.
So just in regards of energy, tone and those dastardly intangibles, BlizzCon 2015 felt like it was ready to blow the roof off of Anaheim.
Oh yeah, and the Warcraft movie was given a trailer, but, y'know, no biggie(2).
Your Pocketbook Is Not Prepared!
For once Illidan may be right, so prepare your wallet because 2016 may be one of Blizzard's better years.
And it starts in only 3 days.
As foretold, Starcraft II's big expandalone, Legacy of the Void releases on November 10th, promising an all new competitive flavor and cooperative mode, as well as finishing up the Starcraft II trilogy. It will cost 40 USD for the standard edition, 60 USD for the deluxe edition(3) or 80 USD for the collector's edition.
Then on Thursday November 12, the Hearthstone team is releasing it's third adventure mode story, The League of Explorers for 20 USD. If you like Hearthstone as a casual game, this update is for you, boasting some really fun new mechanics that can change the game.
Spring 2016 boasts Overwatch's full release to the public. It will be released on PC, Xbox One and Playstation 4. It will have a similar pricing model to Legacy of the Void, with a 40 USD standard edition, a 60 USD "Origins Edition" or 130 USD collector's edition.
The Warcraft movie will also be released June 10th, 2016. I'm definitely excited for that because the trailer has nailed the Warcraft aesthetic. I'm going in with low expectations and hoping for great surprises.
But then again, Thrall is now Green Jesus and Green Moses (4).
Back to the real Warcraft. The World of Warcraft that is. Legion will be coming out at or prior to September 21st, 2016. Keep in mind, Blizzard has been known to use and abuse the word "soon" and have historically pushed back expansions just to tune them further.
It will be 50 USD for the Standard Edition and 70 USD for the Deluxe Edition. No word on the street on the Collector's Edition but the internet does always like to spin that wheel of rumours.
Sprinkle in the fact that both Diablo and Heroes of the Storm will receive massive updates over the coming year and Blizzard has one hell of a stew brewing for the year.
With that out of the way let's just go through the top stories from BlizzCon, shall we?
Warcraft: Lights, Cameras, Orc-tion!
Warcraft fans across the globe finally saw the efforts of Duncan Jones on the long awaited Warcraft movie(5).
It's a weird world where David Bowie's son is presenting a live action Warcraft movie trailer, but there it was, live across the world. Showing just how the filmmakers could translate the universe's cartoon realism into film…
…and succeeding. It's too early to tell if the film is good. But it does look promising and all told, they really nailed the art style.
The armor in Warcraft has always been comically clean, the orcs have always been musclebound brutes and the magic has always been over the top.
Thus it's not worth saying that the CGI looks terrible. Because it doesn't. It's a tired argument, especially when the exaggerated art style helps cover up any inconsistencies. Moreover the original plot of Warcraft wasn't exactly its most compelling aspect — that honor went to the gameplay.
The film just need act like a gorilla running through a china shop, breaking all the rules in a spectacular fashion.
Low expectations would be the best course of action for those going to see the film.
Diablo III: Demons All The Way Down (The Pipeline)
No really, it's admirable how Blizzard has supported Diablo III over the last few years.
Free updates in the age of DLC are rarely heard of but Blizzard keeps on improving and making the game better and better by stuffing it with more and more. For free.
Diablo III's lukewarm reception must have really stung them because Diablo III really has become a game worth buying now with Seasonal play, meticulous balance changes and new zones.
Patch 2.4 looks to continue this trend by introducing a new zone, Greyhollow Isle and opening up both the Royal Quarters of the Skeleton King's personal castle and the Eternal Woods which lay beyond the now broken capital of the barbarian peoples.
New legendary items will be added, set items will be revamped (to make them feel more powerful) and completed class sets will open up non-randomized dungeons that only that class can access.
Seasonal play will be getting some quality of life improvements as well, in addition to more stash space and the implementation of action combat features from the console version.
Blizzard has a more comprehensive list here that will be updated as they reveal more.
Heroes of the Storm: Two Heads Are Dumber Than One
Cho'Gall has entered the arena!
Both literally and figuratively, because a new map called the arena is in development with no released. Be sure however, that it features a gladiatorial arena with simple objectives and all types of meta-breaking gameplay.
The battleground's trailer features 10 Illidans of all things.
Back to Cho'Gall however, he's a hero that two players will have learn to coordinate together with. Yeah, you heard right: one hero, two players.
One player goes as Cho, the warrior head, and the other goes as Gall, the mage assassin head. He'll be considered as two players if he's killed, which puts the onus of movement on the player of Cho.
Blizzard released the information for how players can get him, all a player needs to do is team up with someone who has him and win two games, after January 1st however, he will become buyable. Sounds easy, right?
Heroes Genn Greymane, King of Gilneas and Lunara the Dryad will also see release. Both of which are ranged assassins but with some wrinkles.
Genn Greymane can switch from human to worgen form, essentially acting as a ranged and melee assassins. Lunara meanwhile will not have a mount and move 20% faster than normal.
Finally, Heroes will have another new map where players have to siege the core through controlling towns called Towers of Doom and it looks to be released sometime this fall.
HeroesNexus has a comprehensive list of talents for the new heroes.
Hearthstone: Adventure Mode Adventures Around Azeroth
Hearthstone is getting a new adventure: The League of Explorers allowing players to explore the world of Azeroth in Hearthstone.
The adventure mode will have four wings, each one being released week by week (excluding a Thanksgiving week, obviously in memory of those poor turkey souls lost that day) and allow for players to collect up to 45 new cards.
New card effects will also be added. The discover card will allow players to find cards within their own decks, their opponents decks, or even just randomly from the entire library of cards.
Each of the explorers introduced in story mode will also be represented as a legendary card. And just to show how much Blizzard loves to bend the rules, I present: The Golden Monkey!
HearthPwn has a full list of cards, and some of them are quite nutty.
But just to straighten this out: a game derived from another game is going to explore the game world of the game that game is derived from.
I could probably go deeper, but I will wait for when they release Hearthstone: World of Warcraft mode. Only then will I attain lucidity on a vast scale.
Also the trailer is fantastic. I always knew he was an explorer at heart.
Overwatch: Don't Worry Love, The Pricing Model Is Here!
It's official, Overwatch is Buy-to-Play.
Players will be able to play all heroes, however Blizzard's been on clean up duty, trying to dispel rumours that would be selling new heroes and maps as DLC. PC Gamer's Tom Marks did a really good interview to help Jeff Kaplan clear up the confusion.
Personally, I'm all for the Buy-to-Play model mainly because, from my impressions, the game looks like a full game. The latest Co-Optional Podcast even discussed that the amount of different characters has added immensely to its replayability.
With 21 different characters that play like 21 different classes with no direct hard counters, Overwatch just looks like good, clean, fun. When it was first announced, Overwatch never caught my eye, I was looking forward to Heroes of the Storm.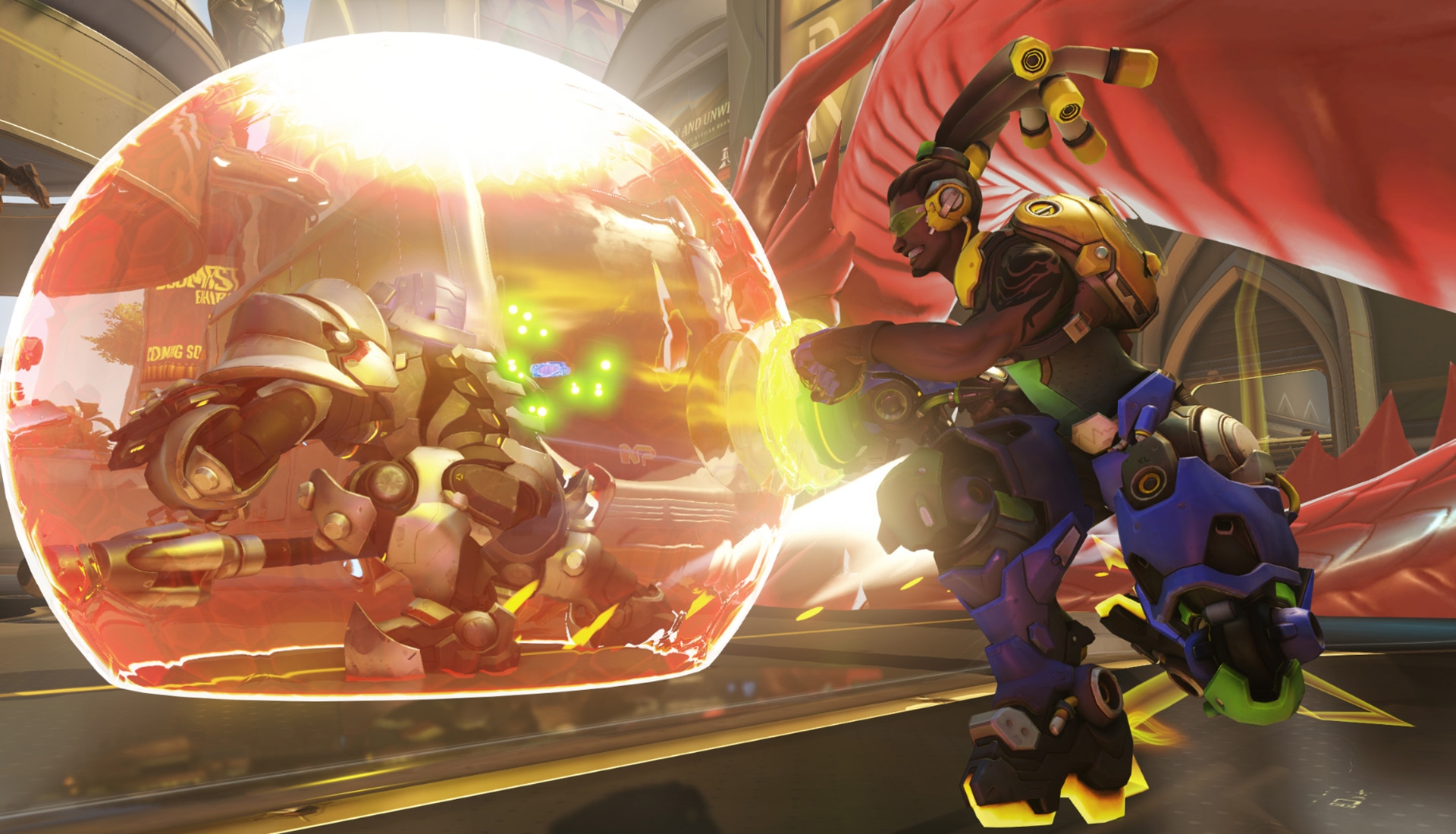 But now that Blizzard has announced the full roster of characters, I'm ready for the game.
Not to mention that because every single hero is available on purchase, teams can change their compositions mid-game. Thus far, Blizzard's touted a really fluid and fast shooter with very little drawback and I don't think.
Furthermore, Blizzard has quite the track record when it comes to releasing quality products minus two or three hiccoughs(6), so I'm quite confident they're not going to mess this up.
Furthermore, I have no problem with purchasing skins in a buy-to-play game. Cosmetics don't break a game unless the development wanted to.
And if Blizzard really were that stupid, fans would justly and absolutely punish them for it.
But if you have any prohibitory feelings towards pre-purchasing, don't preorder and wait for the reviews to come out. It's usually the most sensible answer.
However, I'm looking forward to the game and the latest trailer has me praying for a beta key(7).
WoW: Legion's Cinematic Has Already Been Realeased.
No really, I was expecting to wait much longer before they revealed the trailer.
But keeping with the trend of just taking a massive dump (uh, information wise), Blizzard said: "we heard you liked trailers, so here you go."
Outside of the trailer for Wrath, this one may be my favourite. I'm hardcore Alliance, so to see Varian just rip through demons and generally be a badass, made me giddy on the inside.
And I swear to Aman'thul, if Varian dies, I don't think I could bear Anduin as High King of the Alliance(8).
It almost feels like Blizzard is breaking the rules to make this expansion feel even more bonkers than Warlords of Draenor. But that's what they're doing.
That's to say, Warlords was bonkers in its premise and while Blizzard has scaled back on goofy premises, they still have gone absolutely bonkers in the scale of what they're planning to do.
A forty man introductory scenario, voice-over quest experiences, class halls, artifact weapons, the Legion invading multiple regions all at once, Illidan coming back with his army of demon hunters, Dalaran coming back and the reintroduction of the Broken Isles, an area with surprisingly little lore despite it's importance.
All these things combined make Legion overall more bonkers than Warlords.
Further, one of my friends who still raids in WoW asked me what I thought of Legion, thinking that I would dig into Blizzard but found himself shocked to hear me say that I don't know what mad potion they concocted in the labs at Blizzard but I liked it.
I just want them to make the game fun and filled with wonder again. They nearly succeeded with Draenor but let some elements escape them.
So even if I would enjoy a Naga/Old Gods expansion more (9), I really like what I've read from Blizzard regarding both the story and lore and the the game systems. Like as with Diablo III, the WoW team seems to have learned lessons from the sting of a pissed-off player base.
If you want all the nitty-gritty details however, MMO-Champion has the bullet point recap here.
All in all though, this was a great freaking BlizzCon. One of my absolute favourites with a plethora of news to chew on for weeks to come.
So enjoy the trailer, because it's a goody.
—————————————————————————————————————————————————————
(1) I would take that with a grain of salt though, because it could include people who have touched the game once and never again.
(2) Is it a bad thing when a movie trailer for a franchise like Warcraft becomes an afterthought? Or a good thing because Blizzard was dropping info bombs left and right.
(3) Not a bad deal in general for new players or people interested in returning to Starcraft II. But also great for those who are huge Starcraft fans (read: not me).
(4) Thrall's character really has jumped the shark and at this point it's just hilariously bad.
(5) Seriously, over 9 f—in' years of development, the project will be almost 10 years old when it is finally released. That's a true development hell if I've seen one.
(6)*cough*DiabloIIIandWarlordsofDraenorandpossiblyCataclysmbutitdependsonwhereyoustand*cough*
(7) Lord show Mercy, even better, show me playing Mercy because I really want Overwatch.
(8) Yeah, yeah, yeah, peace, love, happiness, have you not taken a look at the title of the game, Anduin? I mean really c'mon. It's like you don't even know you're just a character in matrix like simulation only serving to amuse your — wait a minute.
(9) Queen Azshara and the old gods have been mentioned in every expansion since Cataclysm. Hell, she even makes an appearance (with a very crappy model)! She's the most powerful sorceress on Azeroth and I am waiting for that expansion. The only other villain I wanted to fight as bad as her was Arthas, and he's dead now.